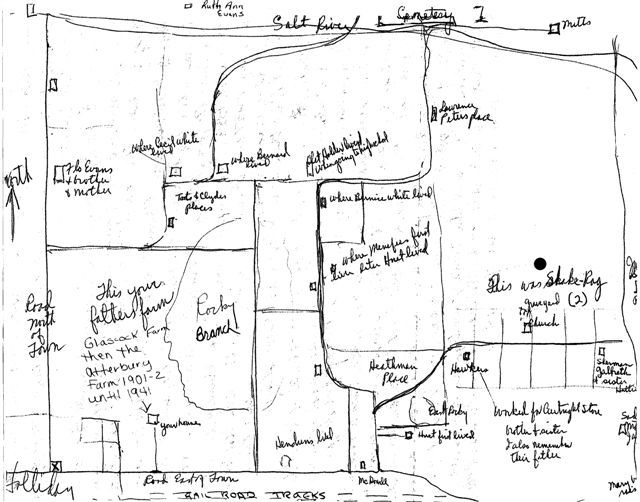 A very special thanks to Vicki Stinson, her mother Ruth Elgelina Hollings (nee Atterbury), and Bob Ulrich for providing the information, poem and map on this Monroe County "Ghost Town". LPP
Research indicates that "Shake Rag" was a predominantly African-American community in Monroe County established for freed slaves after the Civil War. Located on the Middle Fork of the Salt River, the area was found near the railroad crossing about 2 miles north of U.S. Route 24 and ½ mile east of Missouri Route C; it is not currently known if any buildings or signs of this settlement remain. Local legend is that the name "Shake Rag" was given to the settlement by the trainmen who could see laundry hanging to dry on the tree limbs, bushes and fences, a common practice of poor people in those days.
The area map below was drawn by Wendell Sherman, who was born in Holliday. As a young boy, he walked and trapped all over the area and knew it as well as anyone could. He drew the following map from memory and felt that this was a good representation of the Holliday area around 1935-38, including the community in the lower right hand side known as Shake Rag. Of Shake Rag he wrote, "Cemetery 2 in Shake-Rag as I recall did not have any headstones and even grave markers and graves had just about disappeared even during those days. Did you ever read 20 Acres and a Mule? This a book that describes the same as Shake-Rag. This was a government project after the Civil War that tried to make the black self supporting. These plots were laid out over various parts of the north. This was the only one I was ever familiar with and the three buildings as shown were all that was left when I hunted there. I understand there was a house on each 20 acre plot."

(Note: In 1867, Republican Congressman Thaddeus Stevens proposed a Slave Reparation Act also known as the "forty acres and a mule" plan as part of reconstruction after the Civil War. Stevens hoped to confiscate land from southern Confederate plantation owners and redistribute it to the freed slaves to help them make a living and pay them back for slavery. In support of his Act, Stevens proposed that "Out of the lands thus confiscated each liberated slave who is a male adult, or the head of a family, shall have assigned to him a homestead of forty acres of land, (with $100 to build a dwelling), which shall be held for them by trustees during their pupilage." LPP)
The Shake Rag community is fondly remembered in the following poem written in 1974 by Hilda Gooch Clark:
SHAKE RAG
"Now reams have been written of Erin's green isle-
"It's a wonderful place" so they say
I too write of a spot on which God must have smiled,
And it isn't so far away.
It's a place known as "Shake Rag", a very odd name
Such another you're not likely to see.
A wonderful spot, its folks wonderful too.
And they meant a whole world to me.
It's in Monroe County, down in "Old Mizzou",
Near a small town, Holliday is the name-
Just a very small area - a square mile or two,
That I'd nominate for fame.
I go back in memories, some beyond my years,
To folks whose home it used to be;
Some I do remember, and shed a few tears-
As I think how dear they were to me.
Many years have gone by since I've seen this spot,
But its memories are with me still.
And in dreams I go back - listen to "Bishop Mack",
See the little white church he'd fill.
There were Beauchamps, Hagers, Pierces and Whittakers,
Galbraith families - two.
A Dutchman named Wheeling, who was not "double-dealing"
Stevens, with their pretty daughter, Sue.
Hawkers, Harmons and Heathman lived on "The Hill",
In the "Bottom" lived Aunt Chloery Jane-
And tho her descendants are legion, there's none left who carry her name.
There were Burgesses, Braytons, Bartons and Millers,
Beechums with three sons and three daughters - One
Of them named Ola Bea-
Ragsdales, Durbans and Jacksons,
Blacks and Anglo-Saxons,
Lived in peace and in harmony.
Many names I've not mentioned, most folks have gone away-
Many gone beyond recall;
But, I think when we're gathered on Judgement Day
'Twould be wonderful to see them all.
There were fish for the taking back in the creek,
'Coons and 'possums in the woodland shade.
In the meadows about, bobwhites you could seek,
And fat rabbits basked in the glade.
There were blackberries most as big as my thumb-
Gooseberries and I think wild plus - a few,
"Hazel nuts", hickory nuts, walnuts and butter nuts
Were in the woodlands too,
While nestling down in the dew at your feet
Were dewberries covered with dew.
Down on Rocky Branch, behind Glascock's Farm
Grew lovely wild fern, half as long as you arm.
Phlox, "boy-breeches" and daisies their languid heads raised,
As bluebells silently rang out a paean in God's praise.
Some of my Indian forbears may have once strode the halls,
Of the wonderful Rocky Branch cave.
For their marvelous drawings are all on the walls,
Forgive me, if I seem to rave.
That a spot so fair, bears a name so drab, certainly seems a shame.
And mem'ry hears Grandpa's voice insisting still-
Pleasant Hill is it's real-true name.
Some day all its wonders will be known far and wide,
And if God's new earth I'm to see,
I hope that Jehovah gives me,
A spot in SHAKE RAG, you guessed,
Where the truest, the best,
Friends on this old earth seemed to be."
Settlement of Shake Rag
Approximately two and a half miles east of Holliday is a territory which has been named Shake Rag. At one time this was a settlement of black people, and there was a school and a church. The settlement is now gone, but the people of Shake Rag played a very important role in the rearing of some of the older residents of Holliday. They would come from Shake Rag to the town two or three times a week to wash, iron, or do other work. Often they brought their children with them, and the black and white children would have a good time playing together. Some of the prominent people of the settlement were Sally, who made her home with the Greg Glasscock family, Crawford, Judy and Taylor Calbert, Judy Hawker, and Sherman and Myrtle Galbraith.
Negroes of Shake Rag
Approximately two and a half miles east of the town of Holliday is a territory which has been named Shake Rag. It used to be well inhabited by negroes. They had a negro school where all the children attended. The old negroes church was torn down recently. Bishop Mac was the minister and his best liked sermon was "The Speckled Bird". The negroes thought be was the grandest man the Lord ever produced.
The negro-women have played a very important part in the rearing of some of the middle aged people of this town. They would come from Shake Rag two or three times a week and wash, iron or do anything that was desired for them to do. Sometimes they would be seen coming up the track with a very heavy load on their heads. They could carry very heavy loads in this manner. If they saw anyone they would remove the load and carry it in their arms. Once in a while they would bring their children with them, and during the day the white and black children would have a good time playing together.
Some of the prominent negroes of the older day were Sally, who made her home with Greg Glascock, Crawford, Judy and Taylor Galbert. Others are: John Williams, Aunt Ellen, Jim Calloway, Cora Heathman. There are only five negroes left in the settlement. They are Judy Hawker, Sherman Galbert and Myrtle Galbert.
Northwest of Art Hemmings's garden they would have big meetings every summer. Some of the negroes were the Bassetts, and the Pettis.