New Post Office and Postmistress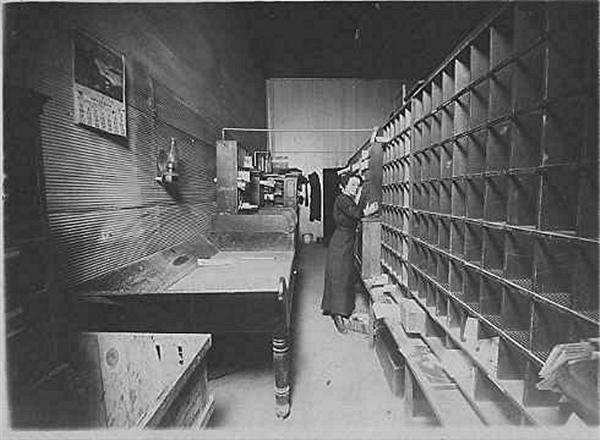 During the last 25 years many small post offices have been closed throughout the United States, many of them inside Monroe County, and it is seldom that one is re-opened. The village of Florida in eastern Monroe County, birthplace of Mark Twain, is an exception. Shown above are the postmistress and the postal boxes at the new office there, which opened November 1.
At left is Mrs. Glenn (Louise) Huffman, the postmistress, standing back of the postal counter. At right are the 44 boxes that have been provided for the office, a sub-station of the Stoutsville office. Mrs. Huffman is authorized to perform any of the services that any third class post office can provide, including mail orders, sale of stamps and other things.
At present her cancellation stamp carries the caption "Florida, Mo." It is planned to secure an additional one which will show that it is the birthplace of Mark Twain, or the location of the Mark Twain Shrine and Birthplace. The post office sub-station is operated in the Huffman general store in the village. Until the reopening of this sub-station, all subscribers in the village were served by a rural route out of Stoutsville. Now many patrons get their mail at the Florida office.
It is thought the office will be particularly valuable next spring when the tourist season opens for those who visit the Twain birthplace and Shrine, as well as the historic village of Florida, and wish to send out mail marked as having been mailed from the birthplace village. It is also expected that because of the new sub-station and cancellation insignia, considerable postal revenue will be added.