The Jefferson Hotel
In the beginning of Paris, lots were laid out and sold. One lot where the Jefferson Hotel stood was sold to Marshall Kelly in September of 1831 and he built a log hotel on it. During the Civil War a company of Union soldiers were headquartered in the Hotel which was the Glenn House. They were surrounded by an estimated 500 Confederates outside who threatened to burn the Hotel but made no effort to do so. The siege lasted 2 or 3 days in this "Battle of Paris".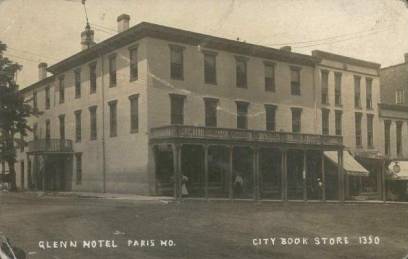 The three story building of brick had 52 rooms. For a half century, Glenn House, built about 1856, was the center of social activity in Paris. Young people came from miles around to attend the balls which were given at Glenn House. The story is told that if a young man brought a bottle he was invited to leave and his date would not go with him. Many famous folk visited; many balls and dinners were held there. Only formal dress was used for many of these affairs.
The first floor was a drug store and to get to the hotel lobby one went up steps by the Helen Perry Beauty Shop. Two large parlors were at the front with a large dining room.
Remodeling was done about 1917 and the lobby was brought downstairs. Most of the social events of the town were held there. About this time the Scobees—Beulah Benson's parents and her siblings—moved to town just as the time for a masquerade came along. Maude Priest and Beulah dressed as an old man and woman. They won the prize.
The hotel began as a home for travelers several years prior to the Civil War and continued until it closed its rooms for rent the last of September, 1968. During it's over a century of existence it has seen many famous government figures, office holders and other celebrities such as Samuel Clemens and guests. Early pictures of the Hotel show it to be paved with mud, a hitch rack for horses and mules and watering trough in the front.
The structure was of brick with walls 14" thick. In a room on the second floor, the bedroom of Cliff and Beulah Benson, the words "Death to the Rebels" were dug into the plastering with a blunt instrument. Also in that room were small round holes which had been filled with plaster and according to older natives, they were bullet holes which had been shot through a window. These had been papered over but when redecorating was going on, were found anew and caused much comment. For many years bullet holes were evident in both the exterior and interior walls. Inside they were plastered and papered over but it was not until about 1920 that the stucco was applied and the shot-torn bricks covered.
The Hotel is supposed to have been built by the Glenn family and was the last of four hotels around the courthouse square. One was on the north part of the Missouri Bank lot, one where the Roy Johnston station was and the other where the county barn now stands.
In the spring of 1921 Mr. and Mrs. Addison Benson and Mr. and Mrs. Albert Middleton bought it and in the fall the Middletons sold out and went back to Colorado. The Bensons owned it—from father to sons, Cliff and Marshall, until 1968, when it was sold for health reasons. Mrs. Marshall (Relda) Benson and Cliff died within nine days with Marshall not all well, leaving Mrs. Cliff (Beulah) to operate it alone. Because she could not get adequate help to carry on she was forced to sell the hotel which had seen so much of life through the years to the Carl Monglers.
The new owners soon prepared to sell it all—heat registers, light fixtures, bathroom fittings, interior doors, stair railings, etc.—all sold room by room. Helen Yusko still operated her shop in the building but closed it the night before the sale because her water heater would be sold on the morrow. More than a capacity crowd attended the sale in January, 1973.
The Hotel was a favorite loafing spot for many folk who'd drop in to occupy a rocking chair while waiting for a bus or a child or just to chat. On the second floor was a balcony porch which the ladies especially enjoyed as they say out there trying for a cooling breeze. On one occasion a young boy rode his bicycle to the court yard just across the street, hid the bike among the shrubs and scooted up the street to the pleasure show. Along came the mom who asked the Benson ladies if they had seen her son and truthfully they replied, "he didn't come on this side of the street". They weren't going to tattle but still answered truthfully.
Many years ago the hotel operated a restaurant along with the rooms. Good meals were served each day of the week. "Prices were right"—t-bone steaks were 75¢.
Beulah says she often thinks, "I'll go back to number 6 a storeroom, really) and get something only to realize that #6 is no more. And so is the Jefferson Hotel—no more.
The hotel served several notables—one was Mark Twain's daughter, Clara Clemens Gabrilowitch. She came to Paris to sing to help raise money for the Mark Twain Park. She brought along her own piano and tuner which had to be just so before she sang at the Paris Christian Church at least twice. She spent three days and was a very compatible guest.
Norman Rockwell spent a week when he was painting and wrote an article for Saturday Evening Post on the life of a country editor, Jack Blanton. He was a delight to be around. Every night after he had gone out for his supper he'd come back to the living room and visit. One afternoon, Cliff and nephew, little Barry, took Mr. Rockwell fishing down on Salt River which was most enjoyable.
The two families of Benson lived and worked at running the Hotel: Cliff and Beulah had no children but the other couple had two young sons. The care and discipline of the two youngsters was shared by both couples. Larry, the older son, in band with my daughter told her, "We hardly knew who were our parents; it was like having two sets of parents".
When Larry was quite small his baby whimperings were quite annoying to Marshall, his father, who was not well and as a result the crib was removed to the room of his uncle and aunt where it remained. As bottle time came at night, Beulah would do the warm-up act while Cliff played with the baby. This continued in one form or another and a close family feeling developed. Now that there is only Beulah, the boys continue their affectionate care and thoughtfulness in many ways. On a valentine day a rose bouquet arrived from one and a check for porch geraniums from the other. Such devotion!
Through the years candidates would speak from the court house yard as elections neared. When Jim Reed was running for governor, he had a room at the hotel and went across the street to speak. He neglected to turn off the water in the bathtub or to pull the plug and a near-flood greeted them all as they came in. Needless to say, Mr. Reed didn't get many votes that night.
Beulah Benson is one who is ever young. Her memory is clear as a bell and her wit keen as a brier. She's gone through good times as well as trying ones but has managed to keep a calm and happy outlook on life. She could write volumes on her many and varied experiences through the years. A most remarkable lady!